FRUIT N' VEG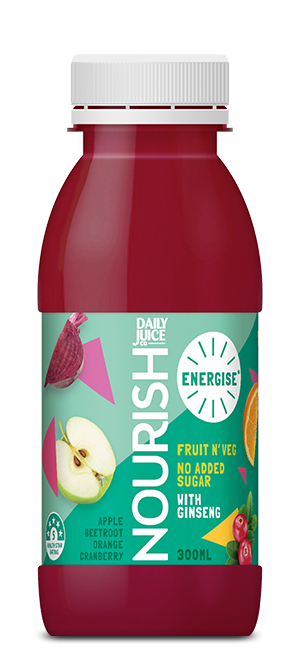 Available in sizes:
300mL
NUTRITIONAL INFORMATION (Average):
SERVING SIZE: 300mL
PER SERVING
%DI# PER SERVING
PER 100mL
Energy
456kJ
108Cal
5%
152kJ
36Cal
Protein
1.2g
2%
0.4g
Fat, Total
0.3g
0%
0.1g
– Saturated
0g
0%
0g
Carbohydrate
24.6g
8%
8.2g
– Sugars
22.8g
25%
7.6g
– Added Sugars
0.0g
0.0g
Dietary Fibre
0.3g
1%
0.1g
Sodium
24mg
1%
8mg
Vitamin C
60mg
150% RDI*
20mg
Folate
30µg
 15% RDI*
10µg

*

Recommended Dietary Intake.


#

Percentage Daily Intakes are based on an average adult diet of 8700kJ.
Ingredients:
Cloudy Apple Juice (35%), Reconstituted Beetroot Juice (32%), Orange Juice (27.9%), Reconstituted Cranberry Juice (5%), Preservative (202), Ginseng Extract, Acidity Regulator (330), Vitamin C, Folate.
Fruit and vegetable juice product. Contains fresh, reconstituted and from time to time, cold-stored juice.
With folate and Vitamin C to reduce tiredness and fatigue when consumed as part of a balanced diet.