No added sugar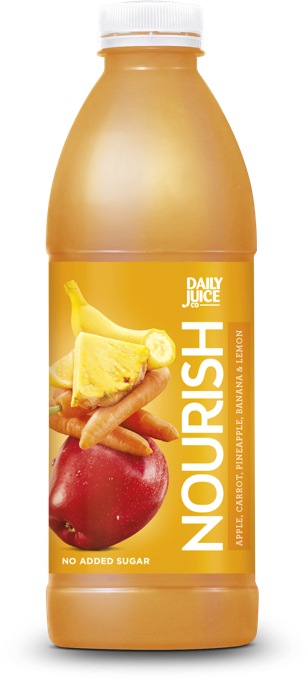 Available in sizes:
1L
Nutritional information:
SERVING SIZE: 200mL
PER SERVING
%DI# PER SERVING
PER 100mL
Energy
346kJ
4%
173kJ
Protein
0.6g
1%
0.3g
Fat, Total
<1.0g
<1%
<1.0g
– Saturated
0g
0%
0g
Carbohydrate
18.4g
6%
9.2g
– Sugars
17.0g
19%
8.5g
– Added Sugar
0g
0g
Dietary Fibre
1.0g
3%
0.5g
Sodium
86mg
4%
43mg
*Percentage daily intakes are based on an average adult diet of 8700kJ.
Ingredients:
Reconstituted vegetable and fruit juices [Carrot (36%), Apple (15.9%), Pineapple (10%), Lemon (2%)], Apple Juice (30%), Banana Puree (6%), Acidity Regulator (330), Preservative (202).
Fruit and vegetable juice product. Contains fresh, reconstituted and from time to time, cold stored juice.