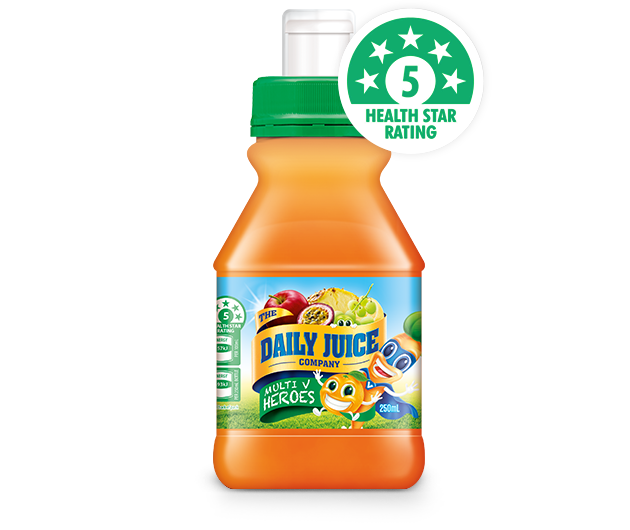 Delicious apple, orange, pineapple, grape and passionfruit juices with some sneaky healthy carrot. High in vitamin C and folate with no added sugar.
Available in sizes:
250mL
Ingredients:
Reconstituted Fruit and Vegetable Juices (71.6%) [(Carrot (37.4%), Apple (18%),Orange (5.7%), Pineapple (3%), White Grape Juice (3%), Passionfruit (2.5%), and Lemon (2%)], Orange Juice (28.1%), Acidity Regulator (330), Preservative (202), Vitamin C, Vitamin A, Natural Flavours, Folate.
TEMPORARY CHANGE: Due to a national shortage of oranges, our orange juice is currently 100% imported, yet still 100% tasty. This is a temporary change only, until more local fruit becomes available, which is expected from August 2017. All Daily Juice orange juice products with 100% imported orange juice will be clearly labelled on front of pack.
Nutritional information:
250mL SERVINGS PER PACK: 1 / 250mL serve
PER SERVING
%DI* PER SERVING
PER 100mL
Energy
393kJ
157kJ
Protein
1.5g
0.6g
Fat, Total
<1g
<1g
– Saturated
0.0g
0.0g
Carbohydrate
20.3g
8.1g
– Sugars
18.8g
7.5g
Dietary Fibre
1.3g
0.5g
Sodium
25mg
14mg
Vitamin C
100mg
63%RDI*
10mg
Vitamin A
117.5?g
16%RDI*
47?g
Folate
75?g
38%RDI*
30?g
* Recommended Dietary Intake