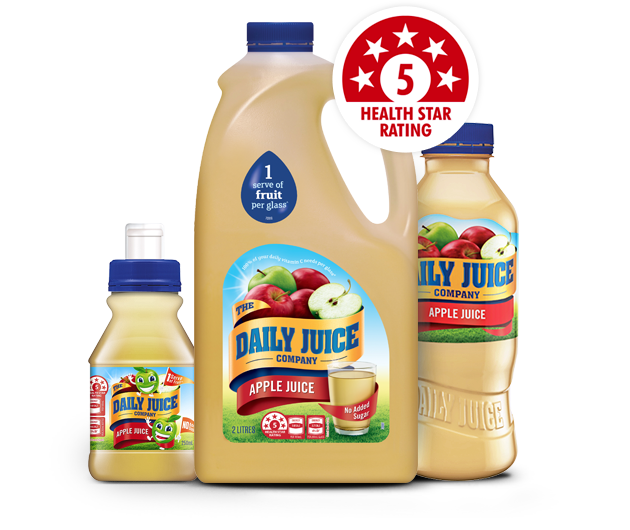 A refreshingly sweet and great tasting apple juice that the whole family will enjoy.
Available in sizes:
250mL Pop Top, 500mL and 2L
Ingredients:
Apple juice & reconstituted apple juice (99.9%), flavour, preservative (202), vitamin C, acidity regulator (330).
Contains fresh juice, or a blend of fresh juice & cold stored juice depending on fruit availability.
Nutritional information:
2L / 200mL serve
PER SERVING
%DI<* PER SERVING
PER 100mL
Energy
370kJ
4%
185kJ
Protein
<1g
<1%
<1g
Fat, Total
<1g
<1%
<1g
– Saturated
0g
0%
0g
Carbohydrate
20.8g
7%
10.4g
– Sugars
20.2g
22%
10.1g
Dietary Fibre
<1g
<1%
<1g
Sodium
16mg
0.7%
8mg
Vitamin C
40mg
100%RDI#
20mg
500mL – SERVINGS PER PACK: 1 / 500mL serve
PER SERVING
%DI* PER SERVING
PER 100mL
Energy
925kJ
11%
185kJ
Protein
0.5g
1%
0.1g
Fat, Total
<1g
<1%
<1g
– Saturated
0g
0%
0g
Carbohydrate
52.0g
17%
10.4g
– Sugars
50.5g
56%
10.1g
Dietary Fibre
0.5g
2%
0.1g
Sodium
40mg
2%
8mg
Vitamin C
100mg
250%RDI#
20mg
250mL – SERVINGS PER PACK: 1 / 250mL serve
PER SERVING
%DI* PER SERVING
PER 100mL
Energy
463kJ
5%
185kJ
Protein
<1g
<1%
<1g
Fat, Total
<1g
<1%
<1g
– Saturated
0g
0%
0g
Carbohydrate
26.0g
8%
10.4g
– Sugars
25.3g
28%
10.1g
Dietary Fibre
<1g
<1%
<1g
Sodium
20mg
0.9%
8mg
Vitamin C
40mg
100%RDI#
20mg
* Percentage daily intakes are based on an average adult diet of 8700kJ. Your daily intakes may be higher or lower depending on your energy needs.

# Recommended Dietary Intake